Supermarkets misleading shoppers on healthy food, say nutritionists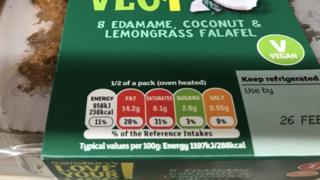 Products excessive in salt and saturated fat are being marketed as healthy by main supermarkets, BBC Radio 5 Live Investigates has discovered.
The British Dietetic Association mentioned shops together with Tesco, Morrisons and Sainsbury's had been being "unhelpful" and "confusing" prospects.
The Royal Society for Public Health known as for an impartial grocery store regulator.
Supermarkets mentioned they had been dedicated to "promoting healthy eating".
BBC researchers visited the highest 5 supermarkets within the UK and located Sainsbury's, Morrisons and Tesco had been stocking merchandise excessive in salt and saturated fats in sections marked "healthier choices" and "healthy and diet meals".
Morrisons' "healthier choices" part contained a vegetarian steak slice with nearly 10g of saturated fats – practically half of the advisable most each day quantity.
'Shocked'
The grocery store mentioned the merchandise "provides customers with a red-meat free alternative".
Sainsbury's edamame, coconut and lemongrass falafel contained greater than 6g of saturated fats per half pack – round a 3rd of the advisable most each day quantity – and was situated of their "healthier choices" part.
In Tesco's "healthy and diet meals" part, a "lamb hotpot" contained eight.5g of saturated fats, 45% of the advisable most each day quantity.
Registered nutritionist Charlotte Stirling-Reed mentioned she was "quite shocked" at a number of the objects being marketed as 'more healthy decisions'.
She mentioned: "I'm not saying there's anything wrong with eating them or consuming them in moderation – but telling consumers these are healthier options is a bit misleading."
The Royal Society for Public Health (RSPH) mentioned many merchandise are being recognized as "healthy" as a result of they're vegetarian, vegan, free from sure substances, or have fewer energy.
But, it mentioned, many have excessive ranges of fats, salt or sugar, and are extremely processed.
'Duty of care'
"Supermarkets should be transparent about how they classify foods, and provide clear information about products," the RSPH added.
"There should be incentives and penalties for presenting clear and correct data.
"Perhaps there's potential to have an impartial grocery store regulator. It is necessary that the great work carried out up to now on labelling will not be undermined."
A British Dietetic Association (BDA) spokesperson mentioned supermarkets had a "responsibility of care" to their prospects.
"It is unhelpful and complicated to the buyer, and supermarkets ought to keep away from doing this," they added.
"They needs to be selling and educating individuals to purchase meals that truly are healthy – not simply marketed as being so."
Morrisons' personal model lentil hotpot contained nearly a 3rd of the advisable most each day quantity of salt – nearly 2g – however was stocked within the "healthier choices" part.
Smoked meat substitute slices marketed as healthy in Sainsbury's contained nearly two grams of salt per 4 slices, making them extra salty than seawater.
Action on Salt, which campaigns for a discount within the consumption of salt, mentioned it was very time-consuming for shoppers to examine each label to discover a more healthy possibility.
"Placing products in 'healthier choice' sections of supermarkets should ideally highlight products that are actually better for our health," it mentioned.
"However, we have discovered that lots of the vegetarian and vegan merchandise in these sections of the grocery store could be excessive in salt, with some vegetarian burgers containing extra salt than actual beef burgers, that means shoppers are being given a false sense of safety.
"Supermarkets ought to have stronger standards in place for merchandise allowed to be displayed of their 'more healthy selection' sections."
Council buying and selling requirements officers implement meals security legal guidelines that cowl well being and vitamin claims in particular person supermarkets.
Hertfordshire and West Yorkshire buying and selling requirements providers – the principal buying and selling requirements companions for Tesco and Morrisons – informed BBC Radio 5 Live Investigates they are going to be making additional enquiries with each supermarkets.
Tesco mentioned: "We are sorry that some of our products were mistakenly included under the 'Healthy and Diet Meals' sign and are rectifying this immediately."
It added that every one dietary data is clearly listed on packaging.
Sainsbury's mentioned: "Our range of healthier meals are currently stocked alongside our vegetarian and plant-based options. In some cases our signs were not updated to reflect this and we are putting this right."
It mentioned it was dedicated to serving to prospects stay "healthier lives".
Morrisons mentioned: "Our 'Healthier Choices' section provides customers with the option to buy an item that is healthier than a product that meets a similar need. A 'Healthier Choices' cheese will be substantially lower in fat than ones we sell elsewhere but might still carry a red traffic light label."
5 Live Investigates is on BBC Radio 5 Live, 24 February at 11:00 GMT – catch up on BBC Sounds